Did you see that story on invisible kitchens? Here are just a few more photos to drool over.

Photo byJohn Madden – dwell
Recently in the DJC: What's cool in kitchens? Invisibility
"There's a different story being played out by some kitchen designers today: kitchens that merge seamlessly into the rest of the main living space.
"Sometimes that's because there are space limitations — a smallish apartment, for example, where the kitchen is cheek-to-jowl with every other room. Or there may be plenty of space, but no walls, so each living zone looks into the next."

Photo by R.Z.Owens Constructions – Houzz

Photo by Urban Kitchens – Houzz

Photo by Henrybuilt – East Hampton Residence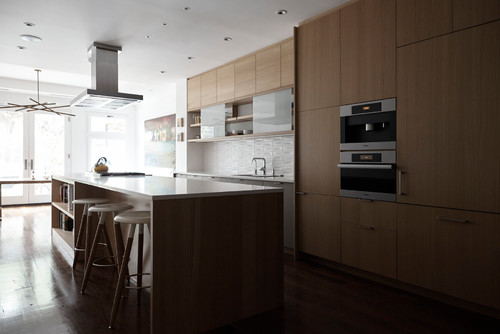 Photo by Henrybuilt – Prospect Height Brownstone
"Henrybuilt, a Seattle designer and maker of kitchen furniture and storage systems, offers solid-surface counters with drainage for the sink. Storage cubbies for tools, napkins and bread are built into milled wood counters, which are then extended to create eating tables. Knife blocks, utensils, spices, pantry items, and recycle and trash receptacles all fit neatly out of sight in drawers and sliding cupboards."

Photo by Henrybuilt – Seattle Showroom
Photo by Henrybuilt
– Seattle Showroom
"Pay attention to how you illuminate the kitchen, says Sheva Knopfler, creative director of Brooklyn, New York-based Lights.com.
"'A statement light allows you to add a bold dash of your personality. It becomes the 'artwork' of the space,' Knopfler says. Consider a large chandelier or a grouping of pendant fixtures."
Follow Henrybuilt on Instagram.
Check out Houzz for more invisible kitchen inspiration.